Healthy Vegan Cocoa Tofu Brownies
Debbwl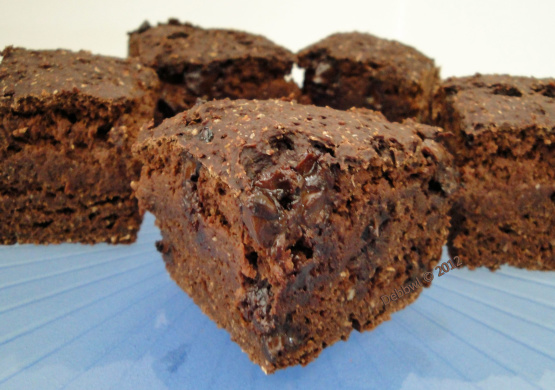 This is my healthified version of Vegan Cocoa Tofu Brownies. The brownies still come out chocolatey, fudgy and super yummy. I hope youll enjoy them, too. :) Feel free to add in some dried fruits or chocolate chips if you feel like it.

Top Review by Debbwl
We really enjoyed how low fat and much healthier these brownies are. Did use the addition of chocolate chips suggested I the intro. Made twice as the first time I used a 8x8 pan recommend in step three and while they tasted ok I have seen fatter pancakes. The second time (used for photo) I baked in a loaf pan and increased the bake time by 8 minutes. Both times I ran the tofu through the food processer and used only whole wheat flour. We both also thought the cinnamon was a nice addition. Thanks for the post.
Puree the tofu, yogurt, water and applesauce until smooth and fluffy. Transfer to a mixing bowl. Use a fork to vigorously mix in the sugar and vanilla.
Sift in flours, cocoa powder, baking powder, cinnamon, pumpkin pie spice and salt.
Use a spatula to mix batter until smooth. Transfer to an 8X8 greased baking pan and smooth out the top.
Bake in the preheated oven at 325°F/150°C for 25 minutes or until set.
Remove from the oven and let the brownies cool for at least 15 minutes before slicing and serving.
Enjoy.