Healthy Stuffed Patty Pan Squash
Bergy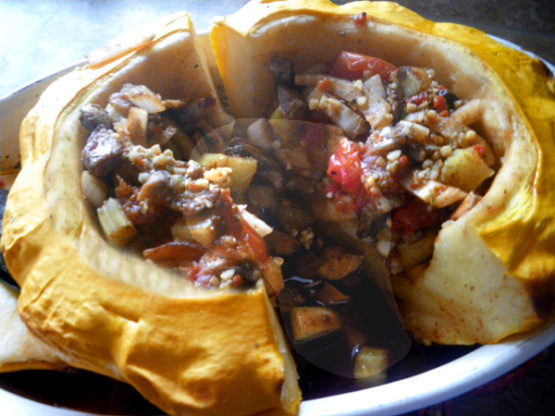 I wanted to stuff the squash to add flavor but didn't want anything fatty so I threw this togther and it was, I think, good enough to post. The recipe would not accept "Garlic Plus" spice so it reads 1 tbsp garlic bit it really is "Garlic Plus" a lovely mixed spice is by Club House but in a pinch you may sub 2 garlic cloves chopped . Even with all the spice that is in the recipe it was not "Hot" but do check how spicy your Chipotle sauce is and modify according to your taste buds. You could use this recipe with small 2" Patty pans and just decrease the baking time. If you do not wish to use wine substitute Apple juice
Cut the top off the squash and clean out all the seeds.
Mix all the ingredients together, stir to mix well.
Stuff the squash, put it's hat back on.
Place leftover stuffing in a piece of tin foil.
Place the stuffed squash in a baking dish.
Bake in 375 oven for apprx 1 hour.
The baking time will depend on the thickness of the squash shell - mine was apprx1" thick.
Put the leftover stuffing in the oven for the last 20 minutes of baking.