Healthy Spicy Black Bean Cakes With Guacamole
loof751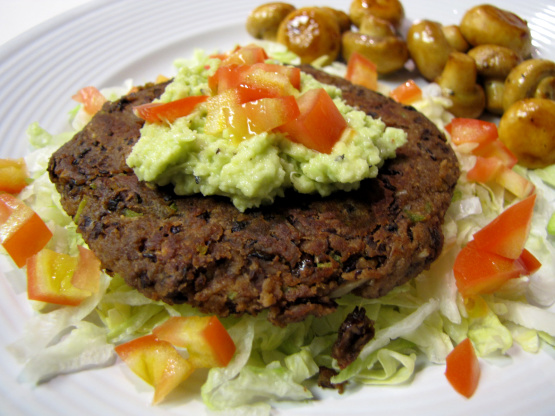 Healthy vegetarian meal, with a lot of flavor. You can eat it over a bed of lettuce or with corn tortillas.

These veggie burgers are delicious! Nice and spicy with great flavor from the cumin (love that stuff!). Served these on shredded lettuce as suggested and enjoyed a great light and healthy meal - thanks for sharing the recipe! Made for Spring Pick-A-Chef 2011
Mash the avocado in a small bowl. Stir in lime juice; season to taste with pepper and cumin. Cover and chill until ready to serve.
Place torn bread in a food processor. Cover and process until bread turns into coarse crumbs. Transfer to a large bowl; set aside.
Place cilantro and garlic in the food processor. Cover and process until finely chopped. Add the beans, chipotle pepper and adobo sauce, and cumin. Cover and process until beans are coarsely chopped and mixture begins to pull away from the side of the bowl or container.
Add mixture to bread crumbs. Add egg, combine, and shape into four 1/2 inch thick patties.
Lightly grease the rack of a grill pan. Place patties on the rack. Cook over medium-high heat for 8 to 10 minutes, or until patties are heated through, turning once.
To serve, top patties with guacamole and tomato.