Healthy Soft Chicken Tacos
Boomette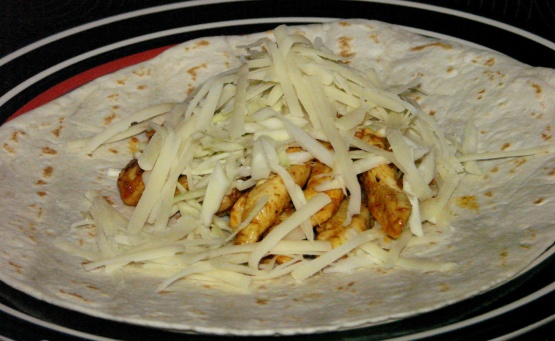 An easy, super tasty weeknight dinner from Cooking LIght that even toddlers will adore! Can be grilled or seared in a frying pan. The original recipe calls for chicken thigh's. The cabbage is a MUST!

A very refreshing change from the usual overly-loaded, messy taco. These are clean, crisp from the cabbage and very good! You're right about the cabbage, it's a MUST! I followed this recipe exactly with the exception of using flour tortillas instead of corn. Great lunch today, this will be a regular! Made for New Kids on the Block tag game.
Prepare grill.
Combine first 4 ingredients in a small bowl; rub spice mixture over chicken.
Place chicken on grill rack coated with cooking spray; grill 10 minutes on each side or until done. Let stand 5 minutes; chop.
Heat tortillas according to package directions. Divide chicken evenly among tortillas; top each tortilla with 2 tablespoons cabbage and 1 teaspoon cheese. Serve with sour cream, if desired.