I need to change this description again. At first, I posted it as a healthy salt substitute, then someone rated it as unhealthy, stating celery was not recommended for someone on a low sodium diet. Then someone else rated it as healthy and gave a website to check. So I did my own research. This is what I found. According to the Heart and Stroke foundation of Canada, (www.heartandstroke.ca) celery is a healthy choice for people on low sodium diets. This is what they wrote in response to my question about it; "We are not aware of such claim regarding celery being an unhealthy food choice and acknowledge that incorporating 5-10 servings of vegetables and fruit a day is healthy for you and can help reduce your risk of heart disease, stroke, diabetes and some types of cancer. Vegetables provide nutrients that are important for health." 1 stalk of celery (raw) only contains 40 mg of sodium. According to my husbands cardiologist, he is allowed 240 mg sodium/day (or foods with no higher than 10% sodium on the label). Also, according to the way the nutrition info is listed on my recipe, one serving is listed as 1440g. This is for the entire recipe of 2 bunches of celery!! If someone poured the WHOLE THING on their food, yes, perhaps that would be unhealthy. But who would do that? So go ahead and use this recipe as a HEALTHY SALT SUBSTITUTE!
Directions
Cut up the celery into fairly small pieces. Put it in the dehydrator until very dry.
Place it in a blender or mini food processor until powdery.
Put it in your salt shaker and get rid of the salt!
Most Helpful
Thanks so much for posting this! Sorry you were wrongly rated.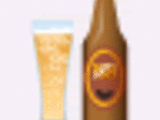 Thank you for the awsome natural substitute and your extra research.

This is a common misconception that salt in celery raises blood pressure. Salt found in vegetables as organic not inorganic like the kind found in the ocean and the ground. Plus their are certain ingredients in celery that have actually been shown to lower blood pressure. See comments below and link to the website is:http://www.mothernature.com/Library/Bookshelf/Books/21/131.cfm One of the best ways to lower blood pressure is to eat more celery, which contains an oil that can lower blood pressure, adds registered pharmacist Earl Mindell, R.Ph., Ph.D., professor of nutrition at Pacific Western University in Los Angeles and author of Earl Mindell's Food as Medicine and other books on nutrition. Celery oil allows muscles that regulate blood pressure to dilate, says Dr. Mindell, and scientific studies show that rats who consumed the equivalent of four stalks of celery a day lowered their blood pressure an average of 13 percent.