Healthy Raspberry Dessert
Debbwl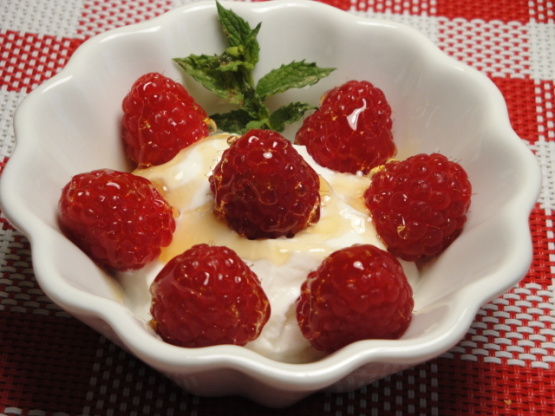 This is a recipe I tried at Trader Joe's and really liked. It uses nonfat Greek Yogurt, fresh raspberries and agave nectar. . .super simple and refreshing for the summer months. It's tart, sweet, smooth and crunchy!

I reduced this recipe to make one serving. It's a very nice, healthy dessert. I couldn't find blue agave nectar. The health food section of the supermarket had blue agave syrup (same thing?) which was very expensive so I did what a previous reviewer did and used honey as the sweetener. I didn't mix any mint into the mixture. Made for Veggie Swap #24
Place 2T of yogurt on the bottom of each dish (I use a small cookie scoop so that its somewhat rounded).
Place 7 raspberries on the top of each.
Drizzle 1 tsp of Agave nectar over the top of each.
Place 1 sprig of mint on each.
Serve immediately (otherwise the sweetener will start to run to the sides of the bowl and your raspberries may "bleed" into the yogurt.
Optional: This tastes nice with a little fresh mint mixed into the yogurt as well!