Healthy Pumpkin Spice Pancakes
Annacia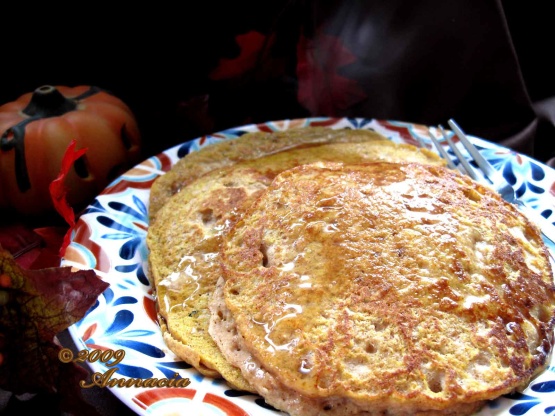 Every year around September I get a HUGE craving for anything and everything pumpkin--especially this year since I'm expecting a little one this winter! This is what I came up with when craving pancakes but wanting something healthy, too. It is a take-off from the Whole Wheat Buttermilk Pancakes in "Recipes from the Old Mill". Enjoy!

Delicious! I added 3 T brown sugar and extra cinnamon. I also increased the baking soda and baking powder to 1 1/2 t each for extra fluffiness since whole wheat flour can make baked goods dense. I added some chopped pecans for crunch and for healthy fat so these would "stick" with us longer. Both my husband and I loved them and will definitely make again.
Beat eggs well until somewhat frothy.
Add other ingredients except pumpkin and mix.
Add pumpkin and mix again.
Fry batter in scant 1/4 cupfuls on a nonstick griddle or pan.
Try not to stack pancakes if possible; this helps retain the fluffiness :). I often store them on a cookie sheet in a 250°F oven until time to serve, which helps keep them warm.