Saturn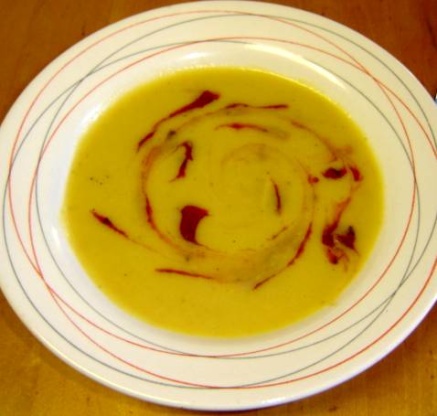 My favourite pumpkin soup. Thick and creamy but low in fat. I eat this all winter long.

Absolutely delightful! I had this for lunch, and actually had seconds, so this deserves 10 stars, not 5! I cut the carrot and the pumpkin into little dice, and the aroma of the veggies sauteeing with the onion and the sage is out of this world. Please make an effort to use the fresh rosemary, it's perfect for this soup. I also used 1 sprig of fresh thyme. I used vegetable stock and soy milk powder instead of the skim. Instead of pureeing it all in the blender I used an immersion blender and pureed it all to a light orange creaminess right in the pot.
In a large saucepan, heat olive oil and gently cook onion without browning, for 3-4 minutes.
Add pumpkin, carrot and rosemary and cook,stirring for 2-3 minutes.
Add stock and bay leaves.
Bring to the boil, cover and simmer for 12-15 minutes until vegetables are tender.
Remove any rosemary stalks and bay leaves.
Place a third of the soup in the blender with a third of the skim milk powder and puree.
Pour into a large bowl.
Repeat with the remaining soup and milk powder and pour the whole lot back into the saucepan, heat through and serve.
For Vegetarian use vegetable stock.