Healthy Pumpkin Seed Bread
milliwuu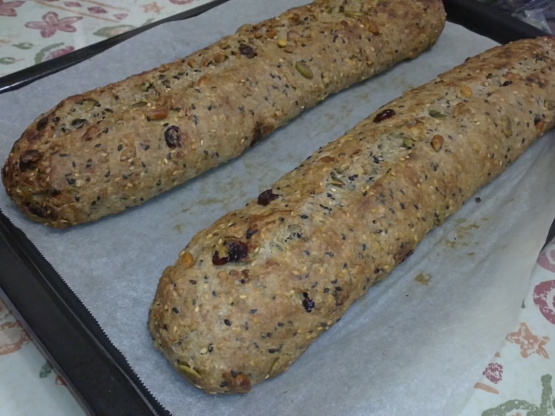 Adapted from a basic whole wheat bread recipe. Any of your favorite nuts can be used. If you want a chewy traditional white bread, just use all white bread flour.
WET INGREDIENTS

1

cup water (or 240g)

4

tablespoons vegetable oil (or 48g, I used half olive oil half butter)

DRY INGREDIENTS

3

cups bread flour (or 360g. I used white140g, whole wheat120g, wheat germ 30g, and ground Oat 70g)
1 1⁄4 teaspoons salt
1 1⁄4 teaspoons sugar
2 1⁄4 teaspoons dry yeast (or 7 g or 1 pkg )
1⁄2 cup pumpkin seeds (or 70g. other nuts or dried fruits can be used)
1⁄2 cup sesame (or 55g, optional )
Mix all dry ingredients then add water and oil. Knead till well combined,.
If you use a bread machine, put ingredients in the order given (wet first). Choose the dough cycle.
Shape the resulting dough into 2 long slender loaves. If dough is too wet, add a little flour.
Let rise in a warm place for about 30 minutes. It may not exactly double in size because of the amount of nuts.
Bake in 180degrees C (or 360F) oven for 30min. If it's become too dark, cover with foil.