Healthy Pumpkin Oatmeal Cookies
mikey ev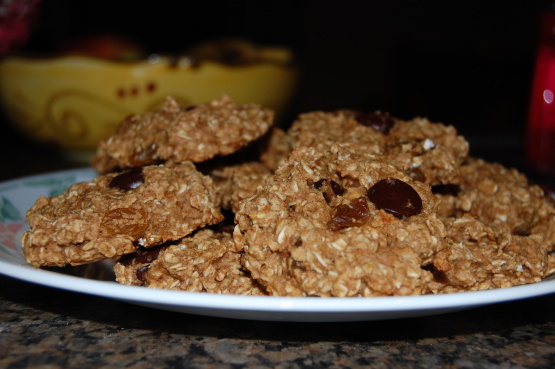 from Her Sports magazine. I ran out of rolled oats, so I used 1 cup rolled and 2 cups quick oats. Also substituted pumpkin spice mix for all the other spices and fresh pumpkin puree for canned pumpkin. I added only --1/2 cup raisins and added --1/4 cup chocolate chips. These came out a tad dry (as there is no fat in them) so adding a little oil could go a long way, though I haven't tried it. I baked for 8 min, rotated, and baked 8 more minutes. I will do slightly less next time. Also, they do not grow at all when baking, so the size you make them is the size the will end up. Mine were about 2 inches in diameter.

I know they are healthy but they were too dry and blah tasting until I frosted them with the unhealthy cream cheese frosting.
Preheat oven to 325°F.
In a bowl, combine pumpkin, egg, and egg whites.
In a separate large bowl combine the rest of the ingredients (sugar, flour, baking soda, cinnamon, nutmeg, cloves, oats, and raisins).
Add the pumpkin mixture to the flour mixture and mix.
Drop cookies by tablespoonfuls onto greased baking sheet, two inches apart, and flatten gently.
Bake for 15 to 20 minutes until golden brown.