Bergy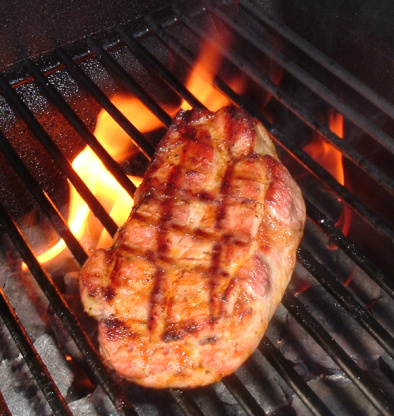 Adapted from original recipe in the American Heart Association Cookbook. Often served with basmati, couscous, or orzo

Just home from holidays, and no time for shopping, I didn't have any pork chops, but this sounded so good I had to try it. I did have a pork tenderloin , so I cut it into 1 1/2 inch slices, made the marinade and left it overnight. (had no garlic powder, so I used 2 fresh cloves, smashed and 2 teaspoons of fresh grated ginger.) It was wonderful!! a keeper and we will do it again, but next time with the pork chops. Thanks Margaret3!!
combine marinade ingredients and pour over chops.
let sit overnight in refrigerator.
On grill, sear on high for 3-4 minutes, then lower temp if using gas, or move away from direct heat, close grill lid& grill about 20 min or until juices run clear.
When we do a extras of these for the freezer, we UNDERCOOK them by about 1/2.
When reheated, they turn out tender and moist.
Serve sliced and fanned out on the plate.