Healthy Peanut Butter, Banana Snack
COOKGIRl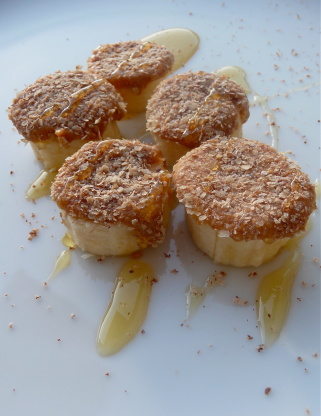 I just came up with this recipe while trying to figure out what to do with some wheat germ I had. I must say, it's pretty tasty (although I love peanut butter on just about anything!!). This would be a good, healthy snack for kids. Wheat germ is a good source of Vitamin E and Folic Acid. * edit - I've just tried it using Grape Nuts cereal instead of the wheat germ and it is really good as well, so I am listing it as an optional ingredient. Of course the Grape Nuts are a whole lot crunchier than the wheat germ.

Simple and using things I usually have on hand. I added a light drizzle of agave nectar and an even lighter sprinkle of freshly grated nutmeg. Vanilla extract or maple syrup are other options...many directions to go with this snack. Reviewed for Best of 2010.
Slice the banana into bite sized pieces.
Smear the top of each slice with peanut butter.
Dip the peanut butter top into the wheat germ.
Enjoy!
* Or you could do like I did and peel the banana most of the way, take a butter knife and smear the top with peanut butter. Then dip it into the wheat germ and bite.
Repeat until all that's left is the peel. Hey, it's quicker that way. :).