Healthy Peanut Butter Banana Oatmeal Bars
Danita42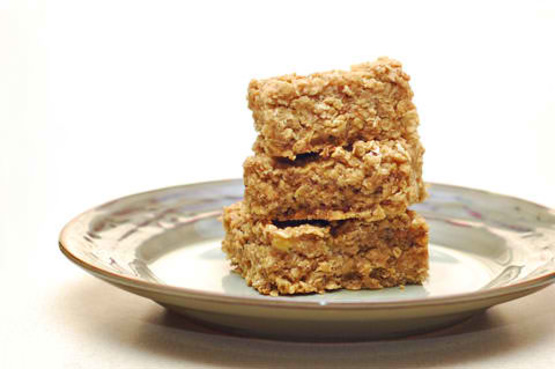 From www.gingerbreadbagels.com. I am making these tonight, but needed to get the nutritional information. I left out the cinnamon, but added it to the recipe. This recipe does not have any oil, butter or pounds of sugar. In fact there's only 1/4 cup of brown sugar.

Yummm...I really like these. I'm not gonna lie, they do taste healthy, but in a good way. Just sweet enough to be enjoyable and just the right balance of PB and banana flavors. I had to bake mine for about 35 mins., I used two smaller bananas that were on the edge. I'm looking forward to having one for breakfast with coffee. Thanks for posting the recipe.
Mix together the quick cooking oats, light brown sugar, baking powder, kosher salt and ground cinnamon.
Add in the vanilla extract, milk and egg. Mix the ingredients together.
Then add in the mashed banana and peanut butter. Combine all of the ingredients.
Pour the mixture into a lightly greased 8 by 8 inch metal baking pan. Bake at 350 F degrees for 20 minutes.
Cut into squares and enjoy!