Healthy Oatmeal Surprises
chiclet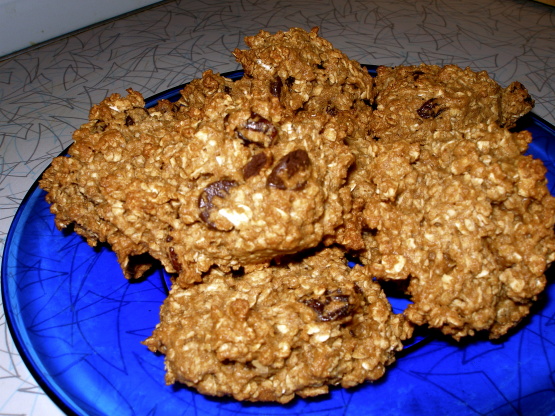 These are both healthy and delicious...my favorite combination! I adapted this from a recipe I found online when I first started baking.My friends and boyfriend always ask for them, and there is lots of room for substitutions, so they never get boring!

Very good! I used 1/2 cup applesauce & 1/4 cup butter, Splenda & 1 cup oats. I also left out the raisins & used 1/3 cup mini choc chips. Very yummy. Thank you!
Preheat oven to 350 degrees F.
Cream together butter and white and brown sugars until light and fluffy in a large bowl.
Add egg whites and egg one at a time, beating well with each addition.
Stir in vanilla.
In a separate bowl, combine flour, baking soda, cinnamon, nutmeg, and salt; gradually stir into the creamed mixture.
Stir in quick oats, chocolate chips and raisins.
**Optional if using raisins: Bring 1 cup of water to a boil. Add 1/2 cup raisins, remove from heat, and soak for 10 minutes. Drain and cool before adding them to batter**.
Drop batter by heaping spoonfuls onto an ungreased cookie sheet.
Bake 8-10 minutes (longer if your spoonfuls are REALLY heaping). Cool 5 minutes on cookie sheet before transferring to wire rack to cool completely.