Healthy Oatmeal Raisin Cookies (A.k.a. Meag's Perfect Cookie)
WiGal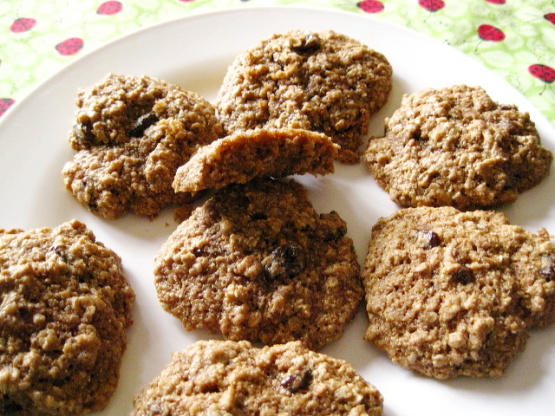 I created this recipe with my daughter after a conversation with my sister, Meagan, about her idea of a perfect oatmeal cookie. This is a cookie you can feel good about giving your kids. They are very moist and fluffy and taste even better the days after being baked. These are very adaptable so feel free to substitute chocolate chips and a bit of lemon zest for the raisins or add some cranberries and sliced almonds for some added fun!

So Delicious!!!!! I did make some changes. This basically became a game of what do I have in my kitchen. I only had 1/4 cup of butter so I substituted the rest with applesauce. I only had 1.5 cups of rolled oats so I substituted 1/2 cup of quick oats. I only had 1/2 cup of brown sugar so I added 1/2 cup of pure maple syrup. I also only had sultanas. These cookies turned out amazing! Moist and tasty! I will definitely be making this again.
Preheat oven to 350.
Cream together butter, applesauce and brown sugar.
add flax seed meal and vanilla.
Mix in eggs, one at a time.
Add flour, oats, salt, baking soda and cinnamon. Mix until fully incorporated then mix in raisins.
Place spoonfuls onto cookie sheet and bake for 10-12 minutes.