katew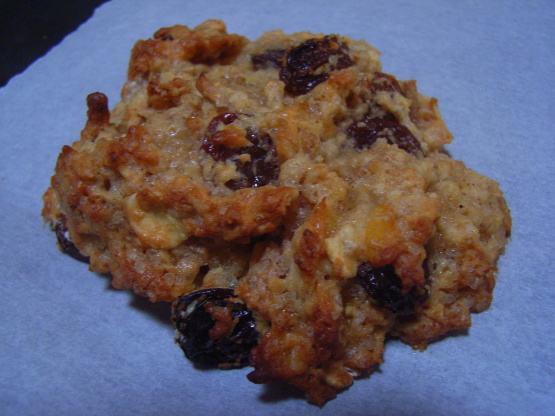 This recipe was printed in my local paper, The Virginian-Pilot, on September 30, 2009. This recipe won 1st place at the Virginia State Fair (in the oatmeal cookies category.) It was submitted by Jan Tucker, of Virginia Beach. ** Note: Cookies have no cholesterol or saturated fat except for the nuts.

Best oatmeal cookies I've ever had! I made a few changes though. I used splenda instead of granulated sugar, used only 3/4 cup flour and substitued the other 1 cup with oatmeal. Also I used hershey's sugar free chocolate morsels instead of the fruit and nuts :) They turned out moist, chewy, and very flavorful!
Preheat oven to 375 degrees.
Blend first five ingredients.
In a separate bowl, mix next 7 ingredients (dry ingredients).
Stir a spoonful of flour mixture into fruit and nuts to separate fruit.
Add dry ingredients to oil mixture, then stir in fruit and nuts.
Drop 1 1/2 tablespoons onto parchment-paper-covered baking sheet.
Flatten slightly.
Bake at 375 degrees for 8 to 10 minutes.
Cool slightly on pan and then transfer to rack to cool completely before storing.