Healthy Oatmeal Breakfast Cookies
Boomette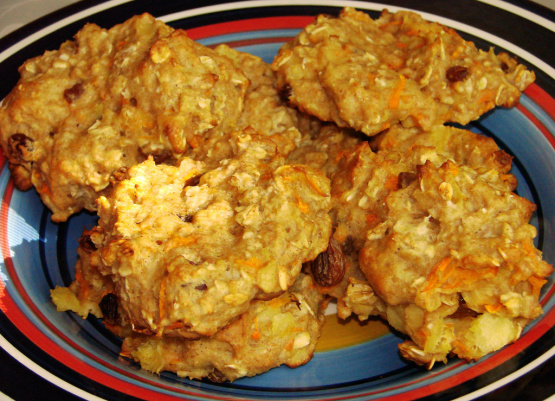 This is a recipe I created out of a need for a healthy low fat, high fiber breakfast option. This "cookie" is not very sweet. You can add more sugar if desired. Makes a great breakfast with a piece of fruit.

Used all egg white and Splenda Brown for the sugar. I made a half recipe and smaller in size so ended up with 14 cookies that are quite nice. As said, they aren't sweet but I don't think they really need to be any sweeter as they are meant for breakfast and not a sweet snack. Loved the pineapple, carrot and raisin combo. Mine came out on the soft and chewy side :D
Preheat oven to 400.
In a bowl, combine oats and yogurt and set aside.
In a large bowl beat eggs, sugar, honey and applesauce.
Add flours, wheat bran, baking powder and baking soda. Mix until combined.
Add oatmeal and yogurt mixture and beat gently.
Fold in carrots, raisins and pineapple.
On a parchment paper lined cookie sheet, scoop 1/4 cup of batter and flatten.
Bake at 400 for 25-30 mins until lightly browned.
Cool on wire rack.