Healthy Mexican Tortilla Pizza
Prep 10 mins
Cook 10 mins

A nice fitness lunch to keep you going all day! It's tastier than you would think considering the ingredients. Chipotle lovers may prefer Black Bean Dip for the dip or the easiest way is to use prepared dip from the jar. I love Guiltless Gourmet's Spicy Black Bean Dip or Desert Pepper Trading Company's Spicy Black Bean Dip. Based on a recipe from Ellie Krieger's Healthy Appetite, this serves two as an entree or eight as an appetizer.
Directions
Preheat oven to 400 degrees.
Prepare 1/2 cup black bean dip: saute onions in the oil for about two minutes until they soften, stirring in the garlic and jalapeno and cooking for one minute more; put the beans in a food processor, add the onion mixture and the rest of the ingredients and puree until smooth.
Place the tortillas on a baking sheet and spread 2 tablespoons of black bean dip on top of each; top with tomato and cabbage and bake for 10 minutes; remove the pizzas from the oven and sprinkle cilantro on each; cool slightly and cut into wedges.
Reviews
Most Helpful
So good! The bean mixture in this is superb, and I loved it so much I made a separate batch of the bean mix and used it as taco filling another night, delicious! Everyone loved these tortilla pizzas, I used whole grain tortillas, and did add a little sprinkling of pepperjack cheese over the top. The cabbage added a nice crunch to this, and I will be making this again! Thanks for posting! Made for ZWT8.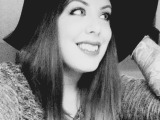 I had found this on the Food network site and made it last night. I'm glad it's been posted because it was delicious. Great healthy, quick, weeknight meal. I did cheat though, I added some cheese. Not a lot, but just enough.
VERY good and very easy to make! Next time I will only put cilantro on mine as my hubby didn't like that taste, but loved the rest of it! Thanks for posting!