Healthy Low-Calorie Chocolate Biscotti
Annacia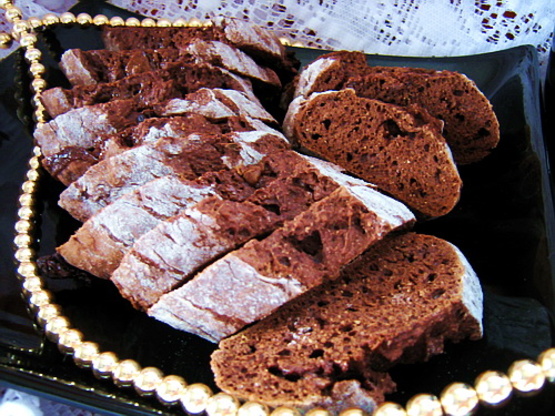 NOTE: Thanks to the past review, I have updated the recipe so you shouldnt have any of the problems she had =]. This recipe is: a) Chocolatey and b) healthier. yes, healthier! Great with coffee or a warm drink. Note: i dont remember if when i made whether i greased to pan or used tinfoil.

I got 14 cookies if you include the end pieces. I replaced the sugar with Splenda and used 1/2 a cup of egg white in place of the whole egg to eliminate the cholesterol, used only 1 tbsp of mini chocolate chips. The draw back I ran into was that the dough was far to wet and sticky to form the log and I needed to work with it well rolled in flour to be able to handle it. Also, I lowered to oven temp to 350 and the log was set in 25 mins. The rebake time for me was 26 mins to get to the best "dunk-able" stage that I like. The final out come is quite nice, especially since they are pretty much completely fat and sugar free :D. Made for Diabetic Awareness Tag '08.
Preheat oven to 400.
In a small bowl, beat the eggs and vanilla together, Set aside.
Combine flour, sugar, baking powder, cocoa and salt in a large bowl.
Gradually add the egg mixture and beat until dough forms.
Fold in chocolate chips.
On a lightly floured surface, roll dough into a log, Place log on greased cooking sheet.
bake for 20 mins, or until firm to touch.
Let cool on wire rack for 10 minutes.
cut log into 1/2 inch thick pieces, Assemble on baking sheet.
Bake for 10-15 mins then flip each piece and bake for 10-15 mins more, remove from oven and enjoy.