Rita1652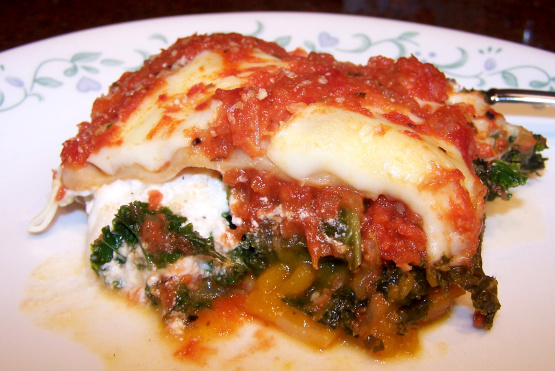 Clock full of winter veggies and cheese -- a healthier version to a family favorite! This can also be made a day ahead -- just put in the fridge and add 10-15 minutes to baking time when ready to cook! If you freeze the unbaked lasagna (can keep in the freezer for up to one month) - add 1 1/4 hours to baking time if cooked while still frozen -- an emergency meal life safer! Recipe source: Sunset (February 2008)

A very interesting dish! Loved the butternut layer. I was worried it may be too much but it was fine. I had Recipe #194908 in the freezer making this one step easier for me, just had to season it with powdered garlic, thyme and pepper. Omitted the oil. I used 3 cups pureed. The kale I did chop but it should be fine chopped. I also squeezed of all liquid. The lasagna was a bit watery after 30 minutes with the 10 minute rest so back into the oven it went for 30 more minutes. I enjoyed the butternut my DH didn`t. The kale can be cut back to half. I did all the garlic to the tomatoes. I used the immersion blender on the tomatoes for a smoother sauce. Simmered it for 1 hour. I also did use low fat mozzarella. Nice healthy comforting meal. Thanks for the healthy eats!
4

tablespoons olive oil, divided

1

red onion, peeled and sliced

3

garlic cloves, peeled (1 minced, 2 left whole)

2

(14 1/2 ounce) cans tomatoes, crushed

1

teaspoon oregano, dried

1

teaspoon salt

1

teaspoon pepper

6

cups butternut squash, peeled and cut into cubes
1⁄2 teaspoon thyme, dried

1

lb kale

9

whole wheat lasagna noodles

1

(15 ounce) container part-skim ricotta cheese
1⁄8 teaspoon nutmeg, ground

2

cups mozzarella cheese, divided
Preheat oven to 400°F.
In a large pot over medium heat heat 2 tablespoons of the olive oil. Stir in onion and minced garlic (1 clove). Cook stirring occasionally for 5 minutes.
Stir in tomatoes, oregano, 1/2 teaspoon salt and 1/2 teaspoon pepper. Reduce heat and simmer for 30 minutes or until thick. Set aside.
While the sauce is cooking in a 12 x 15 inch baking pan, place squash and sprinkle with the thyme, remaining olive oil and remaining salt and pepper. Add whole garlic cloves (2) and toss. Bake for 10-15 minutes or until squash is soft. While squash is cooking in a large pot bring 3 quarts of water to a boil.
Reduce oven temperature to 350°F.
Transfer squash mixture to a food processor and puree.
Tear kale leaves from ribs --discard ribs. Boil leaves for 5-10 minutes or until soft. Drain and let cool.
In the same pot bring another 3 quarts of water to a boil. Add noodles and cook according to package directions (10 minutes); drain and rinse with cold water.
In a bowl mix together the ricotta, nutmeg, 1 cup of mozzarella and the remaining salt and pepper (1/2 tsp each).
In a 9 x 13 inch pan pour in 1/3 of the tomato sauce, lay 3 noodles over and top with squash. Sprinkle 1/2 of the kale over. Arrange 3 more noodles on top and top with ricotta and remaining kale leaves and the noodles. Cover with remaining tomato sauce and remaining mozzarella.
Bake for 30 minutes and let stand 10 minutes before serving. For make ahead directions see description.