Healthy (kind of ) Chocolate Mint Brownies
GaylaJ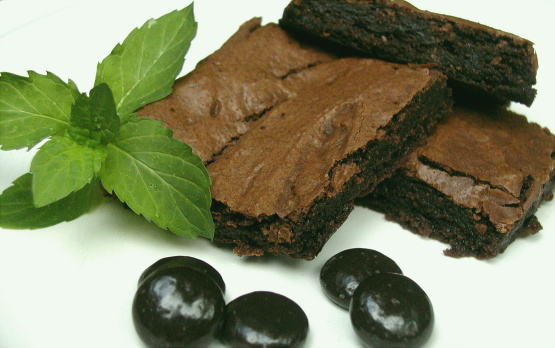 YUMMMM!!! Made these this weekend for fun. Found it online...somewhere, when I was printing out tons of recipes for things like this last weekend. Hope you like them!

i modified this recipe slightly but they turned out quite well. i made them into brownie bites by putting them in a 24 hole mini muffin pan. i also had fun sized chocolates left over from a box of favourites so i left out the mints and halved the chocolate instead which were really yummy. i baked them for 10 mins and they did turn out kinda cakeish but still thought they tasted good :) great healthier alternative to fatty, sugary brownies and good way to use up mints or chocolates haha
cooking spray

32

creamy chocolate-covered mint candies (such as Junior Mints, about 3 ounces)

1

cup all-purpose flour
1⁄4 teaspoon baking soda
1⁄8 teaspoon salt
2⁄3 cup sugar
1⁄3 cup unsweetened cocoa

1

large egg

1

large egg white
Preheat oven to 350 degrees.
Coat bottom of an 8 inch square baking pan with cooking spray.
Combine butter and mints in a 2 cup glass measure; microwave at HIGH 30 seconds or until soft.
Stir until smooth, and set aside.
Lightly spoon flour into a dry measuring cup, and level with a knife.
Combine flour, soda, and salt in a bowl.
Combine sugar, cocoa, egg, and egg white in a large bowl; beat at medium speed of a mixer until well-blended.
Add mint mixture; beat well.
Add flour mixture; beat at low speed just until blended.
Pour batter into prepared pan.
Bake at 350 degrees for 20 minutes or until a wooden pick inserted in center comes out clean; cool completely on a wire rack.
NOTE: Two large (1. 5 ounce) mints or 6 miniature chocolate-covered peppermint patties (such as York) may be substituted for 32 junior mints.