Healthy Interchangeable Cookies
loof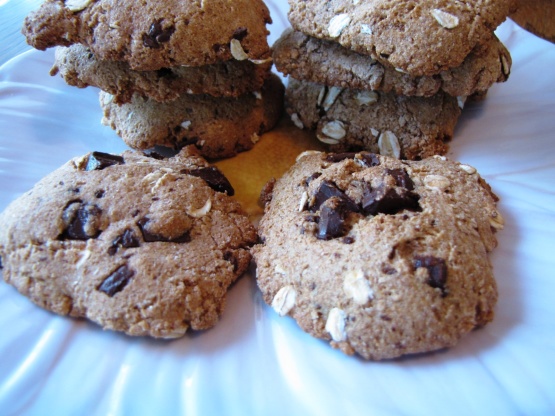 Update 9/14/2011: I have sense been diagnosed with Celiac Disease so tried the cookie using different gluten free flour mixes with great results and have altered other parts of the recipe. I have used 1 cup of Pamela's Gluten Free Bread Mix and 1 cup of Bob Red Mill Gluten Free All Purpose Baking Flour. This is a great starter recipe for any cookie. Whether you want a chocolate chip, peanut butter, chocolate mint, or oatmeal raisin cookie, have fun with it and put whatever extra�s you feel like. The first 9 ingredients are the base for the cookie. For a more cake like cookie only add ½ cup of rolled oats or leave out the oats and add ½ cup more flour.
Very yummy!!! I agree with another comment that it's more like a scone than a cookie. I didn't use peanut butter. I had a wonderful granola mix that has dark chocolate and dried raspberries, so I added just a little bit of the peanut butter chips. The smell and taste are amazing! Definitely will change this up and try different things. My mix was not dry at all; I did use agave-not sure if that makes a difference.
Pre-heat oven at 350 degrees.
Combine flour, baking soda, and cinnamon.
Whisk together applesauce and sugar, in large bowl.
Whisk in egg and vanilla until smooth.
Stir in dry ingredients until blended.
Fold in oats and any additional options to make it the cookie of your choice.
Shape dough into balls and place on baking sheet with parchment paper.
Press each ball of dough into a patty.
Bake for 7 to 10 minutes or until desired brownness.