Healthy Honey Carrot Cookies
Saturn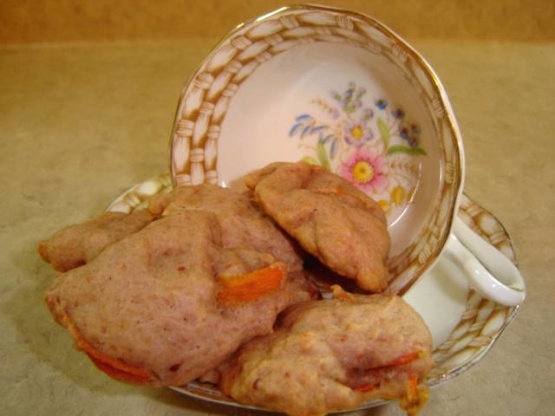 As part of the 'Zaar World tour, I was looking for dessert recipes suitable for Rosh Hashanah. The original caome from allrecipes.combut I've made a number of changes to make this moist and tender cookie not only healthier but more tasty. These are so good, you'll love them holiday or no holiday. Kids will especially love them and you'll enjoy sneaking a little veggie into their afternoon snack. Perfect for my daughter's lunch box! I omitted the lemon extract (didn't have) and added 1/2 tsp of ground all spice and 1 tsp of cinnamon. I also added 1/2 cup chopped walnuts, 1/2 cup of golden raisins. They would probably have been a little too bland if I had made it as-is, but this is a great recipe to customize. Thanks for sharing!
Preheat oven to 375 degrees.
Cream together butter, applesauce and honey. Add eggs, and beat well. Blend in vanilla and lemon extracts.
In a separate bowl, sift together the flours, baking powder and salt. Gradually add the dry ingredients to creamed mixture, and mix well.
Stir in carrots.
Prepare baking sheets with a quick shot of cooking spray. Drop by teaspoon on baking sheets. Bake 15-18 minutes and cool on racks.