Healthy Good Morning Muffins
-Sylvie-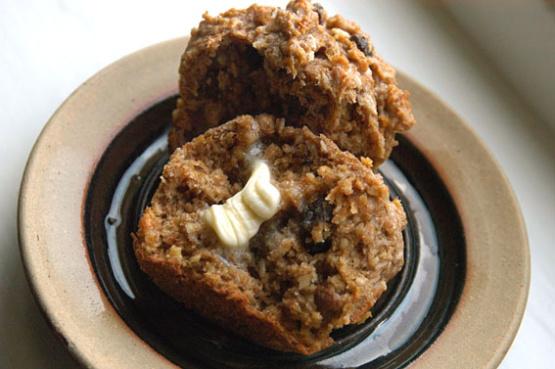 I got this out of a newspaper health supplement, it's a recipe by a nutrition adviser. I've tried them myself and they make a great alternative breakfast, especially warmed up with a little butter. If you like a bit of sweetness use sweetened coconut or you can soak your raisins in apple juice overnight.

I left out the coconut and the butter (added a little more banana and flax). They were really tasty!
Preheat oven to 180°C/350°F/Gas 4.
In a mixing bowl combine wholemeal flour, oatmeal, baking powder, cinnamon, grated carrots, raisins, chopped walnuts, coconut and the grated apple.
In a second bowl mix the yoghurt, banana and baking soda, once combined add the eggs, melted butter and vanilla essence.
Blend well and then stir into the flour mixture until the two are combined.
Don't overbeat.
Bake in muffin tins for approx 20 minutes.