Healthy Garlic Mashed Potatoes
lazyme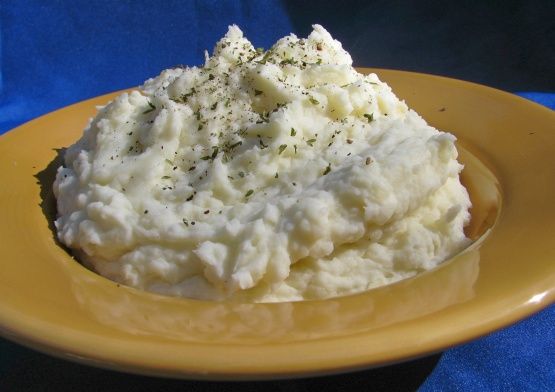 Creamy potatoes with garlic and herbs is a satisfying side to any meat dish. Sandi Richard came up with this, but I changed it a bit. Enjoy!

What a lovely dish. I like that it's low fat and easy to prepare. My DH wanted a roast with mashed potatoes for dinner tonight. This made my weight watching so much easier. We loved the flavor and as I'm writing this review I just now realize I forgot the butter/oil. Well that just goes to show you that even without the extra fat this is great. I liked the sturdiness of the potatoes. I used a hand masher because we enjoy them thick and not creamy. Loved the touch of sage. Thanks for posting. :)
Peel potatoes and cut in half. Place in large stovetop pot with 4 whole garlic cloves. Cover with cold water and bring to a boil. Reduce heat to a gentle boil and cook until potatoes are tender.
When potatoes are tender, drain and mash along with garlic cloves using a potato masher or electric beaters.
Stir butter or olive oil, sage, salt, pepper and sour cream or buttermilk into the remaining potatoes and return to low heat, stirring until warm.