Sageca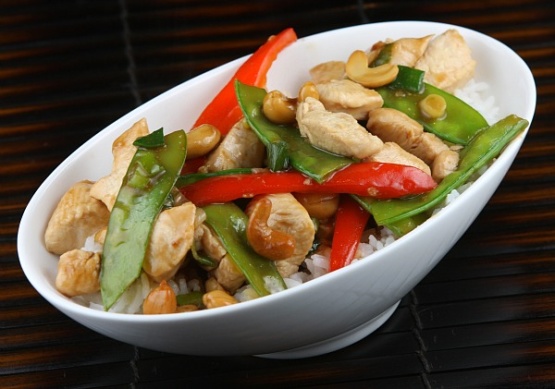 Now you can enjoy a wonderful stir fry without all those calories You reduce the oil in stir fry by using non sticking spray. Add the vegetables you prefer.Hope you enjoy this.

This was great!!!! I had to cut back on the soy because I usually buy the lite soy and I accidentally bought the regular, so for me that is too much sodium. I just used 2 TBS., and increased the water by 1 TBS. I used carrots, peas, green onions and added waterchestnuts. I had to resist the urge to put red pepper flakes in this, because, I LOVE red pepper flakes in stir fry. I will next time I make this. Thanks Sage for posting such a great and versatile recipe.
Cut chicken in 1-inch cubes; set aside.
In a small bowl combine sherry, soya sauce, cornstarch and water; set aside.
Spray skillet or wok with nonstick spray.
Heat over high heat; add carrots and garlic. Stir fry 3 minutes.
Add peas and onions. Stir fry 2 minutes until vegetables are crisp tender.Remove from skillet.
Add oil to pan and add 1/2 the chicken;stir-fry 2 minutes;remove from pan.
Stir fry remaining chicken about 3 minutes; return all chicken to skillet.
Push chicken from center of wok; stir in cornstarch mixture.
Cook until mixture is thickened and bubbly; stir fry 1 minute.
Stir in vegetables.
Cover and cook another minute.
Serve with rice or angel hair pasta.