ImPat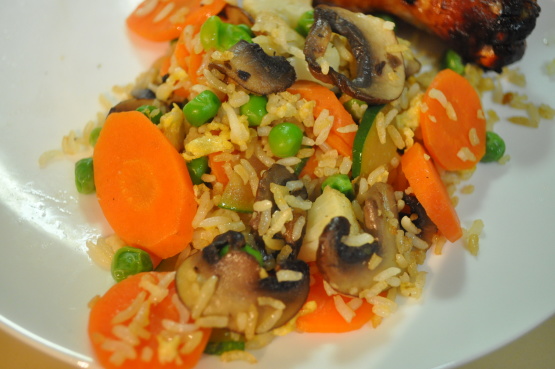 I made this once, hoping to have something light for lunch. Not only was it easy, but it tasted great, and the bulk of the rice kept me full for hours!
Turned out grrrrrrreat we all enjoyed but I think next time I will try onion instead of mushrooms as I was sure to pick them out of kids and u can use whatever veg u have on hand to add, I had a bag of steam able broc cauliflower and carrots and cooked it while i made the rest then added and was perfect but corn and peas or anything really about could work in this and it actually tastes similar to Chinese takeout instead of not being as it's a healthier recipe. We had with teriyaki chicken and dribbled a lil sauce over too yum can't wait to reuse and tweak and try diff things with this recipe as you can renew and revise to make many diff mixtures thanks and bless you all
Heat 1 tbsp oil in pan and sauté mushrooms until browned.
Remove from heat.
Heat remaining oil in pan and add rice.
Add egg and mix until rice is thoroughly coated with egg.
Cook for 5-10 minutes on high, or until egg is lightly browned.
Combine rice mixture and vegetables in large bowl and stir until vegetables are well mixed.
Add soy sauce to taste and serve.