Healthy French Bread Loaf (Abm / Machine)
Ethan UK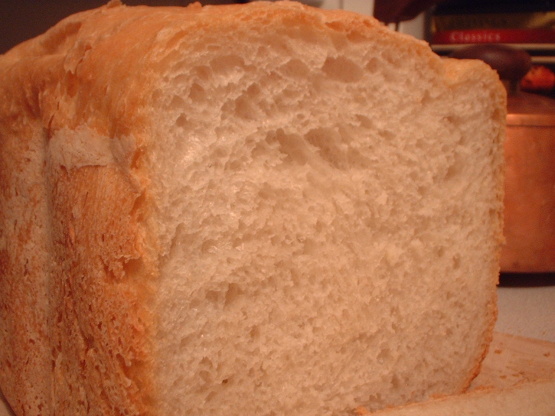 This is a larger version of the other French Bread recipe I've posted - makes a 1 1/2lb loaf. It's a wonderfully open, light and delicious bread, and is actually slightly nicer than the smaller one I often make. It's egg-free, very low fat, sugar-free, and if using oil is dairy free, Kosher Pareve and suitable for vegetarians and vegans. I'm using this one more now that I have a new machine which makes larger and more conventional rectangular shaped loaves. It is based very heavily on a standard Panasonic machine recipe. I incorrectly listed this as suitable for diabetics, and most will be aware that white flour is more readily converted from complex to simple carbohydrates which will of course raise blood sugar levels.

I have not made this recipe, but was looking for a recipe suitable for diabetic, this states it is suitable, but on reading, I discovered it uses white bread, so therefore is not suitable as white bread breaks down into pure sugar. I was given this fact by my doctor and advised to only eat whole meal bread.
The suggested Tsp of vinegar is an old bakers trick to help the loaf keep for longer and is used in place of the same amount of water. I use cider vinegar but white wine or clear rice vinegar would be fine. The loaf does taste better without it so if you can get through the bread within 24 hours or so then I recommend leaving it out.
Remove pan from bread machine and place on scales (electronic ones are strongly recommended), and zero the scales.
Add the vinegar to the pan if using it and the warm water to total 300g (essentially 300ml water weighs 300g).
Weigh in the rest of the ingredients, ideally using the flour to cover the water if you can. (The times when I use oil, I usually cut it back to around 2/3 tablespoon, but most people would probably prefer the full tablespoon as listed).
Transfer the pan back into the bread machine, select French bread cycle if available (or whole wheat cycle if not). My preference is for a dark/firm crust for this loaf. Start machine.
Remove when done and allow to cool on a wire rack.