Healthy Fast and Easy Minted Sugar Snap Peas
BarbryT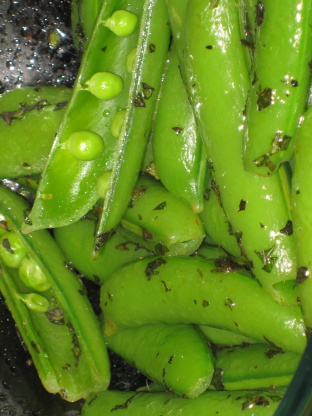 This is a recipe that I threw together on the spur of the moment one day and was amazed at how tasty, easy and healthy is was. It's now in demand at our place and with guests. Please DON'T be afraid of the amount of mint.. it makes the dish. I don't use butter or salt or pepper, so far the flavours of the sugar snaps and the mint together have totally been enough. This is not a dish that does well standing on a buffet table for ages... best made literally in 2 minutes when guests are seated and served piping hot to their plates.(or you can stand in the kitchen and eat the lot ! LOL) ZWT REGION: The Netherlands.
Wash and chop the tips off the sugar snaps.
Put 2.5 cm (1 inch) water in a saucepan put in the sugar snaps and bring to the boil -- boil on the highest heat for 1 minute.
Drain, add all the mint to the sugar snaps and toss well.
Serve this immediately.