Healthy Egg Salad With Fresh Herbs
PaulaG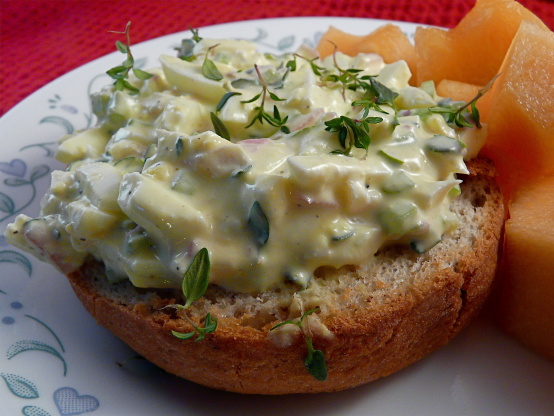 This egg salad is creamy thanks to the yogurt-based dressing and the fresh herbs add vibrancy and flavour. It's good as a salad on a bed of arugula or in a sandwich. .Recipe is from Martha Rose Shulman's New York Times Column, "Recipes for Health" (Jan. 7, 2010).
8

large eggs, hard-boiled and finely chopped

1

cup finely chopped fresh herb (such as parsley, dill, tarragon, chervil or chives)

2

celery ribs, finely chopped

1

small red onion, finely chopped, soaked for five minutes in cold water, drained and rinsed
salt & freshly ground black pepper

1

tablespoon white wine vinegar or 1 tablespoon sherry wine vinegar

2

tablespoons fresh lemon juice
1⁄3 cup plain low-fat yogurt or 1⁄3 cup buttermilk

1

tablespoon Hellmann's mayonnaise or 1 tablespoon Best Foods Mayonnaise

1

garlic clove, green shoot removed, minced

1

teaspoon Dijon mustard

2

tablespoons extra virgin olive oil

1

(6 ounce) bag baby arugula
Combine the chopped eggs, herbs, celery and red onion in a large bowl, and season to taste with salt and pepper.
Whisk together the vinegar, lemon juice, yogurt, mayonnaise, mustard and olive oil. Season to taste with salt and pepper. Toss with the egg mixture.
Line plates or a platter with arugula, top with the egg salad and serve.