Healthy, Delicious Breakfast for One!
loof751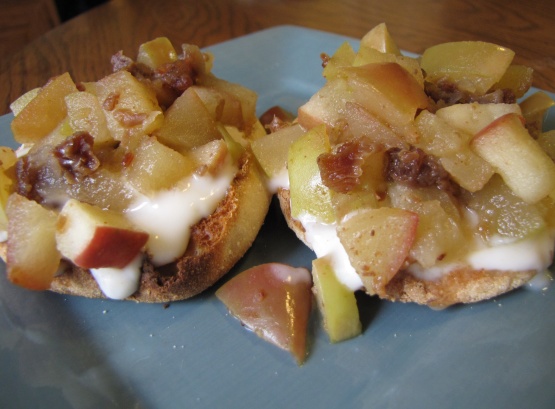 Quick and nutritious breakfast or snack. Note: omit salt or replace with sugar if watching sodium intake.

This was a good quick recipe. I made it for a late night snack. The only thing I think it was missing was some crunch for texture. I also added some pumpkin pie spice to jazz it up a bit. It is a dish I would make again. Made for Fall PAC 2011
Toast english muffin, and place muffin halves face-up in a bowl. Spoon cold yogurt on top of muffin halves.
Meanwhile, chop apple, and put chopped apple and dates in a microwave-safe container. Cover with water, sprinkle with salt, and microwave on high for 1 minute. Stir, and microwave for 1 more minute. Remove from heat.
Pour microwaved contents over yogurt and muffins. Let sit for 1-2 minutes, and dig in with a fork or spoon!
Optional--can use flavored yogurts, and/or top with fresh berries or honey, etc.