Healthy Cucumber-Tomato Salad
Bayhill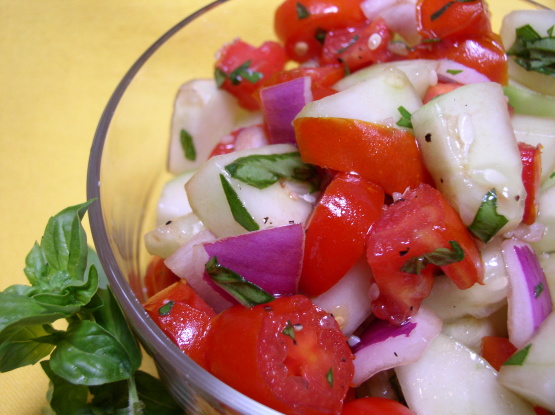 Since I don't like salad dressing, I created this simple salad. Not only is it yummy but it is better for you since the only dressing it does have is the one it creates. After we finish eating the veggies, I like to strain the seeds out of the juice and use it as a salad dressing substitute on a green salad. Since you make it in a bowl with a sealable lid, it is great for picnics or potlucks. The prep time also includes refrigeration time.

This recipe is excellent! Perfect for a hot summer day. I didn't have any fresh basil on hand so I used dried and it turned out really well.
Add cucumber, tomato and onion to a bowl with a cover.
(preferably tupperware or something similar.) Add garlic salt, pepper and basil to taste.
Seal bowl and shake.
Refrigerate for at least 1 hour.