Healthy Crumbed Chicken Nuggets
ImPat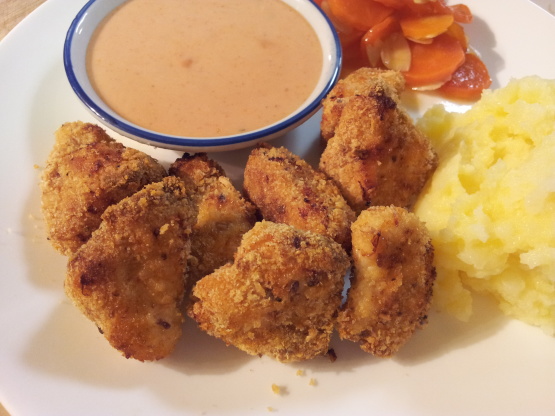 Found this posted on the Australian Vogue forum, it is delicious, healthy, and tasty! Please note that the measurements are approximations because this recipe wasn't provided with any, and I do it by sight. You basically need enough of everything to roll the chicken in. You can use vegetables (like mushrooms) instead of chicken too.

Top Review by ImPat
We had a big oops moment when going to make this only to discover someone had finished of the yogurt so I had to use and egg/milk wash but they cooked up beautifully at 175C fan forced in 40 minutes and were lovely and moist, I used 3 small chicken breasts (total weight 450g) and got 34 nuggets and 3 of us gobbled up 28 of them, thank you Shak'n'Cake, made for Name that Ingredient tag game.
Preheat oven to 180c and grease or line a baking tray with baking paper.
Combine breadcrumbs, garlic flakes (or powder), flour, and salt in a bowl.
In a separate bowl, add yogurt and stir the lemon juice through.
Dip each chicken piece into the yogurt, then roll in the breadcrumb mixture and place on the baking tray. Repeat until all are done.
Drizzle the nuggets with some olive oil (or use spray oil).
Put in the oven for approx 30-40 minutes or until golden and cooked through.