Brenda.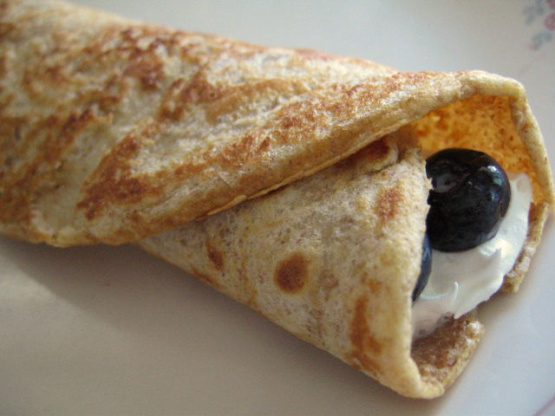 A crepe recipe a friend gave me with healthier ingredients. Dress crepes as you wish. I'm a huge fan of FF plain yogurt with jam or nutella with bananas.

I got home from work and was wanting a snack. I had blueberries and FF Cool Whip in the fridge and decided to make a few crepes now and finish the rest later. Oh my word- delicious! DS and I had blueberries and cream and I am already plotting if I can stuff these with scrambled eggs for breakfast! I did end up using about 1/3 cup batter as the pan I chose had higher sides and was difficult to work with a more delicate crepe. I can't wait to experiment with other fillings. btw the crepe itself is wonderful...(I broke the first one and had to sample it). Thanks so much for sharing!! *Made for PAC Spring 2010*
Mix dry ingredients in large bowl.
Stir in wet ingredients and mix until smooth.
Preheat pan on med. heat on stove.
For each crepe, lightly spray pan and pour 1/4 cup of batter into pan. Rotate pan so that crepe is thin and even and flip once crepe is golden brown, depending on your preference. When other side is also golden brown, your crepe is done.