Healthy Cranberry Walnut Muffins
brneyz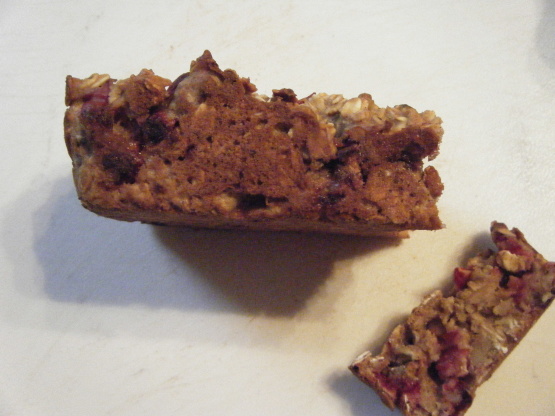 We love these, especially in the fall! Though they're good anytime -- I usually throw a few bags of fresh cranberries in the freezer during the fall, so we can enjoy them year-round. Warning, this makes a large batch of muffins, usually about 18 for me, so make sure you have enough muffin tins on hand.

Top Review by brneyz
I made this for gift giving and think I wasted a lot of quality ingredients. They do not rise, are chewy and tough with so much oats. Fine if you are a into health foods, but not for me. Will not make these again for sure. I posted my pictures to see how short the loaves were.
Preheat the oven to 350°.
Mix the first six ingredients in a large mixing bowl.
Then mix the last six ingredients in a separate, smaller mixing bowl.
Add the wet ingredients to the dry and stir just until it's all moistened.
Grease muffin pans or insert liners.
Place a large spoonful of the mix in each muffin cup -- these don't rise very much, so I usually fill them about 3/4 to almost completely full.
Bake at 350° for about 35 minutes.