Healthy Couscous With Roasted Mediterranean Vegetables (Ww)
Debbwl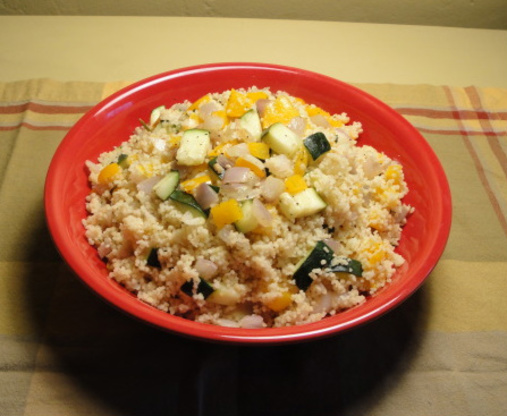 Compromising on calories shouldn't mean compromising on taste. So I came up with this dish that can be a complete meal or served as a side with lean meat. If you have them available, you could add fresh herbs- rosemary or basil would compliment the other flavours nicely. Serves 4 as a side or 2 as a lunch. By my calculations, this recipe contains a total of 11 1/2 points (my book is a few years old though!)

This was very good made with whole wheat couscous and one cup of chicken broth. Because my husband is a zucchini avoider, I substituted one finely diced carrot, and added it to the preliminary baking with the onion. I used recipe#81283 (without adding mint) instead of Cavenders Greek Seasoning, which I have never seen in these parts, and next time I might add just a touch more than the 1/2 teaspoon. I served it as a side dish for 3 people and I have about half of it leftover to be served cold with leftover diced chicken. I think it will make a great grain salad.
Heat the oven to 350°F or 180°C.
Put the olive oil and garlic in a roasting/ baking pan.
Finely dice the red onion into small chunks and add to the pan. Stir and cook in the oven for 5 minutes.
Meanwhile, finely dice the yellow bell pepper and zucchini. Add these to the pan, with the Cavenders seasoning. Stir, cover with aluminum foil and bake for a further 20 minutes.
After 20 minutes, remove the foil and put the veggies back in the oven for a further 10 minutes until just starting to char around the edges.
While the veggies finish cooking, make the couscous- heat the chicken broth in a jug or bowl, add the couscous and cover with the foil. Let sit until done.
When cooked, fluff the couscous with a fork.
Remove the veggies from the oven, add the couscous, stir and serve hot!