cblev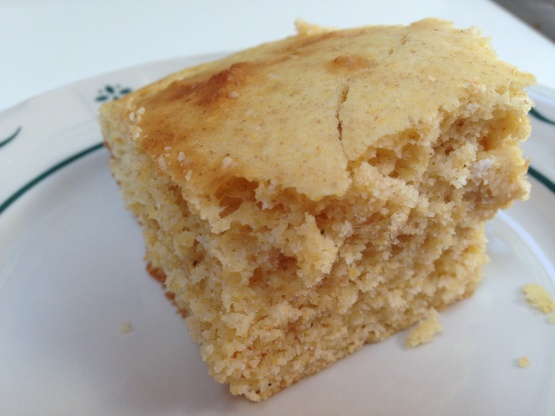 light and slightly sweet and good for you! use honey if you want a sweeter bread and low fat mayonnaise for a slightly richer texture

Top Review by cblev
I was pleasantly surprised-- you know some of the "healthy" recipes sometimes can be.... well you know. It was just the right amount of sweetness and both my husband and son loved it (one usually likes more of the Cracker barrel type cornbread, one more like the Jiffy variety). I used Truvia (a little less than a 1/4 cup since that tends to be pretty strong) and low fat mayo. I too baked it about 37 minutes but that may have just been my oven. Quite good, thanks for recipe.
Combine dry ingrients and mix.
Combine wet ingredients and mix.
Sift in dry into wet and fold in gently.
Bake in preheated oven at 400 degrees for 20 minutes (adjust to your oven).
Let cool and cut into 20 squares.