Healthy Chocolate Chip Muffins
Redsie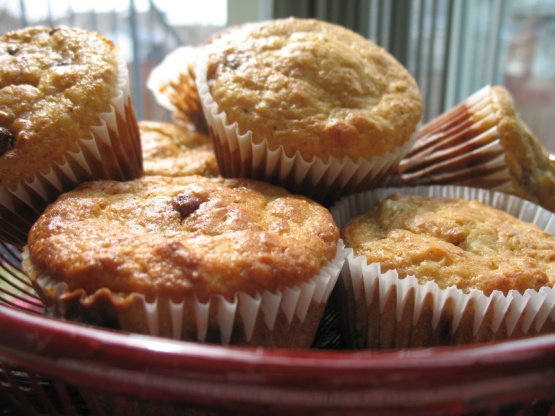 Easy to whip up and relatively healthy.

I really wanted to like this recipe, but it was rather a poor use of good ingredients in my mind. Followed the recipe exactly save for omitting the almonds per the 8-year-old and it baked up bland with a rather gummy texture. Adding insult to injury, the muffins came out positively welded to the paper cup liners! If it were tastier I would try it again with no liners, but I think I'll move on.
Preheat oven to 400 degrees and line muffin tin with paper liners.
In a small bowl, sift together whole wheat flour, all purpose flour and baking powder, set aside.
Mash together banana and brown sugar. Mix well.
Add melted butter, eggs and milk and vanilla. Beat together until well blended.
Stir flour into wet ingredients.
Fold in chocolate chips and almonds.
Pour batter into muffin cups, about 3/4 full and bake 18-22 minutes, or until done.