Healthy Chocolate Banana Muffins
Lynn S.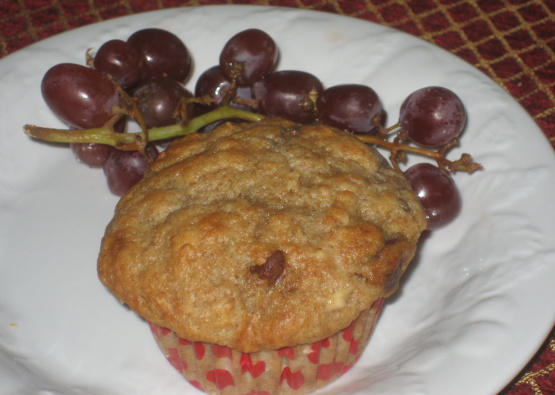 Moist, delicious Banana Chocolate Chip Muffins. They are much healthier than they taste!
Preheat oven to 400 degrees. Line a 12-cup muffin pan with paper baking cups or use a nonstick muffin pan.
Sift the flour, baking powder and baking soda into a large bowl. Stir in the chocolate chips and brown sugar.
Using a fork, mash bananas in a medium bowl until they are almost liquid. Melt the low-fat spread in a small saucepan; stir into the bananas. Combine the yogurt, milk and eggs in a large bowl. Add the banana mixture and beat until combined.
Add the banana-yogurt mixture to the dry ingredients; sitr just until blended. Divide the batter evenly among the muffin cups. Bake until the muffins are risen, firm to the touch and slightly golden, 20-25 minutes. Transfer to a wire rack to cool slightly. Serve warm.