Greg R.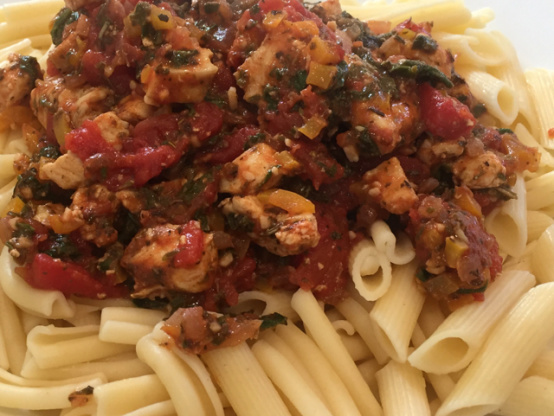 I whipped this up for dinner the other night- Dh was impressed enough to request we have it again. Posted here for safekeeping. I first served it over 3-cheese tortellini, it ws also good the next day with whole wheat penne.

This was delish! I enjoyed it for lunch and dinner. Simple, easy, and flavorful. Thanks for sharing!
Heat olive oil in a non-stick pan over medium heat.
Sprinkle chicken breast pieces with Italian seasoning, then add to pan. Cook, stirring occaisionally, until chicken pieces are no longer pink on the surface, about 8 minute
Remove chicken from pan and set aside. Add onions and peppers to pan, cook 3 minutes. Add the garlic and cook an additional 3 minutes, or until garlic, onions, and peppers are soft.
Add chicken stock and let cook down and reduce by half.
Stir in the crushed tomatoes, salt, sugar, and basil.
Cook, stirring frequently, about 10 minutes to let the flavors blend.
Add in the cooked chicken, baby spinach leaves and parmesan cheese, cook an additional 5 minutes, and serve warm over your favorite pasta.