Healthy Chicken Casserole
Derf2440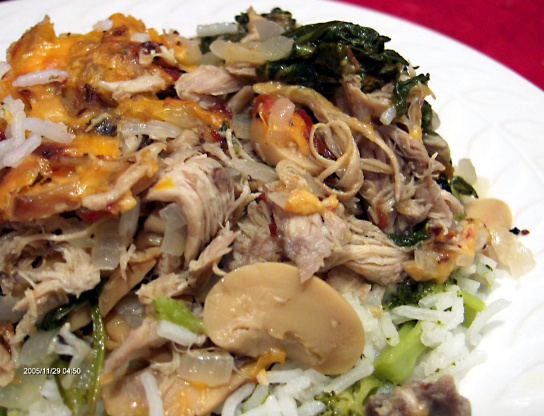 This is a very fresh tasting casserole that is easy to put together. I use a purchased rotisserie chicken from the grocery store to make it even faster.

I made this with skinless boneless chicken breasts that I cooked up quickly in a saute pan with olive oil and a little garlic powder. I made it once as posted and we loved it. However, my BF asked me to double the spinach the next time, which I did. Good choice if you want to increase the veggies or stretch this dish a bit. Excellent flavor, low-card, and lean-protein: a winning combo in my house.
Cook spinach according to package directions, eliminating salt; drain.
Mix onions with spinach.
Arrange spinach in bottom of 1 1/2 quart baking dish; sprinkle with 1/4 tsp
of the garlic powder.
Arrange mushrooms on spinach and drizzle with melted margarine.
Place chicken on mushrooms and sprinkle with the remaining 1/4 tsp of the garlic powder.
Top with mozzarella cheese.
Place in 350°F oven and bake for 30 minutes.