Healthy Carrot Zucchini Muffins
Prep 25 mins
Cook 20 mins
I think this came from allrecipes.com, but I don't remember for sure. This is yet another recipe I haven't tried, but plan to whenever I get a food processor to shred the carrots.
Directions
Preheat oven to 400*.
In large bowl, whisk together oil and sugar. Beat in egg, then applesauce. Stir in carrots and zucchini.
In another large bowl, whisk together flours, baking powder, cinnamon, nutmeg, and salt.
Fold dry ingredients into wet until just mixed. Spoon batter to the very top of sprayed, paper lined muffin cups and bake 18-20 minutes or until toothpick comes out clean.
Reviews
Most Helpful
These are just perfect. I only review if a recipe is really good (or really bad) and this is definitely worthy 5 stars. I did add some ingredients to suit my needs including toasted coconut, chopped pecans and raisins. I also added more carrot and less zucchini because that is all I had. They were absolutely perfect. Thanks :)
These were perfect; we loved them; thanks so much for this keeper.
Rita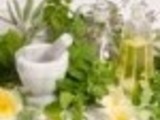 We like this delicious and healthy muffin! In order to make it vegan, I used a flax egg. I then made minor changes to suit my taste -- measured the cinnamon on the scant side, and followed Lalaoula's lead and reduced the brown sugar to 1/4c. Loved it! Next time I will increase the salt a little. I got 12 not-too-sweet muffins from the batch and think they'd be great with a cup of tea or even to accompany a bowl of soup. Thanks for the recipe!