Healthy Carrot Cake (Except the Frosting!)
packeyes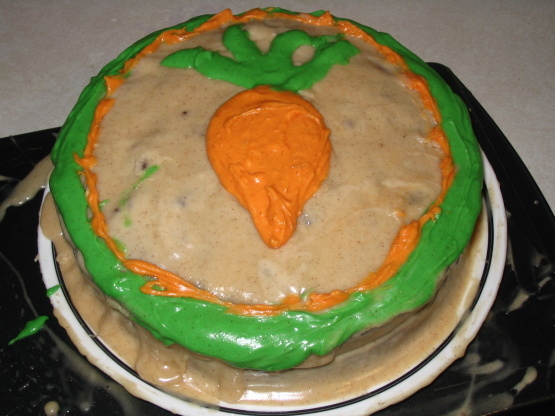 This is a yummy carrot cake that is delicious. I got the recipe from the Jack LaLanne's power juicer cookbook and use my juicer to make the carrot and apple pulp needed. I completely take away all healthy aspects of this carrot cake by slathering it with icing. The cake itself is a little dry - but the icing makes if perfect!
Preheat oven to 350.
Mix together apple pulp, carrot pulp and oil.
Add in the honey, eggs, and vanilla.
In a separate bowl combine flour, baking soda, cinnamon and nutmeg. Mix in with the wet ingredients.
Stir in walnuts.
Grease 2 round cake pans. Put half the mixture in each pan.
Bake for about 1 hour. I always check on mine after about 45 minutes.
Let cool for 5-10 minutes. Take cakes out of pan and onto a cooling rack until almost all the way cooled off.
Put one cake upside down on a plate. Cover with frosting. Put the other cake right side up on top of the upside down one. Cover the entire cake (top and sides) with frosting.
I usually put aside a small part of the frosting and color part of it orange and part of it green with food coloring and make carrots on the top of the cake (as best I can - my artistic talents are extremely limited!).
ENJOY!