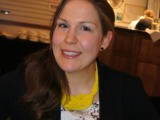 This spicy bean stew reheats well so it can be made ahead and refrigerated until needed for mealtime. Add meat for an omni-version.
Directions
Place the water in a large pot. Add onion and bell pepper. Cook, stirring occasionally, for 5 minutes.
Add sweet potatoes, tomato sauce, tomatoes, pineapple, apples, chilies and vegetable broth.
Bring to a boil, reduce heat, cover and cook over low heat for 45 minutes, stirring occasionally.
Add beans and seasonings, mix well and continue to cook over low heat for another 10 minutes, stirring occasionally.
Serve over rice.
Reviews
Most Helpful
Tried this on a whim and i must say it is excellent. Definitely a unique flavor and something i will be making again!
Delicious! The combination of ingredients is fantastic, very flavorful and filling! Leftovers froze well. Thanks for posting... it's definitely a new favorite.
Oh wow - what a great stew! I halved the recipe and left out the onions, otherwise made just as specified. This stew has such a great and unusual combination of flavors, textures, and colors. It needs no meat - it's very filling and full of flavor. I served this over brown rice, with cornbread. Really enjoyed this - thanks for sharing this recipe! Made for Fall PAC 2009