Kea C.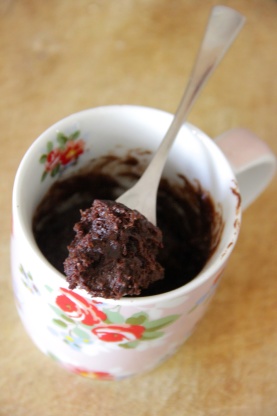 This is a healthy alternative to a regular brownie. Cutting down half the sugar, this makes the unsweetened cocoa shine on your tastebuds. Dark chocolate lovers, you will love this recpie!
In a microwave safe mug, add water/milk, coconut oil, a pinch of salt, and vanilla extract. Whisk well.
Add cocoa powder, whisk well. Add sugar, whisk well. Add whole wheat/regular flour, and whisk well.
Microwave for 60 seconds. The center should be slightly soft. DO NOT OVERCOOK or the brownie will become hard and stiff.
Enjoy with a spoon. Careful, the brownie will still be hot.