Healthy Brown Rice Krispies Treats
J-Lynn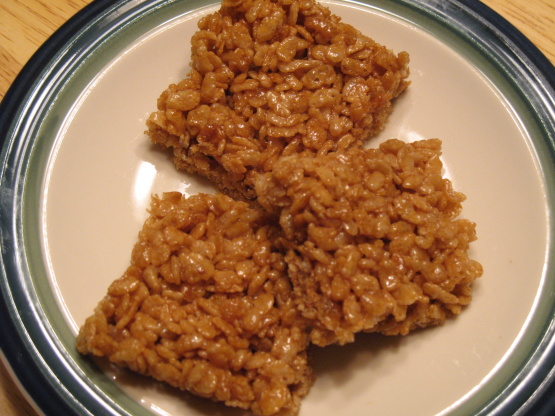 These are really tasty, although different from the usual marshmallow treats. They hold together very well, but remained a bit too sticky after cooling. Try keeping them in the refrigerator. I found this recipe at lalecheleague.org.

This recipe was GREAT!! What a fantastic alternitive to a traditional treat. I can make these anytime and know my kids will BENEFIT from it. I substituted walnuts for peanuts because of allegies and it was still great!!
Put oil in a large pot and heat.
Add rice syrup and nut butter. Stir and heat until bubbles form.
Turn off heat and add vanilla extract.
Add cereal and mix well. Stir in any optional items and mix lightly.
Put mixture into a 9 x 13 pan. With slightly wet hands, press mixture flat.
Let set to room temperature. Slice and serve. Lasts a week in an airtight container.