Healthy Breakfast Burritos
PaulaG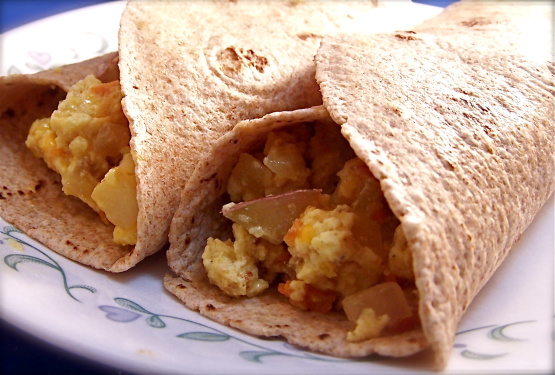 As a high schooler, I' always late in the morning, and often I'm not really hungry after waking up until I get to school. These work great for this; I heat a frozen burrito in the microwave, drive to school, and then chow down during first period (with my teacher none the wiser). However, I've never been able to handle very fatty foods--they just make me sick. So I came up with these little babies, and they've never let me down!
Top Review by PaulaG
This makes a lot of filling. Much more than the 2 servings indicated even with my adjustments. First I cut the egg whites to 3/4 cup and used a medium size red skinned potato. I substituted cheddar cheese for the sliced American cheese because that is what I had and everything ended up being cooked in the same pan starting with the potatoes, carrots, and onion. These were not frozen but eaten right away. I could see where they would make a nice precooked breakfast. Made for *Made 3 Chefs* and *Diabetic Awareness Tag*
Scramble egg whites in Pam spray.
Cube potatoes and cook with onion and shredded carrots in Pam spray.
Microwave, bake, or fry Canadian bacon.
Layer egg whites, Canadian bacon, cheese, and potato mixture in tortilla. Wrap, burrito-style.
Freeze and enjoy later.