Annacia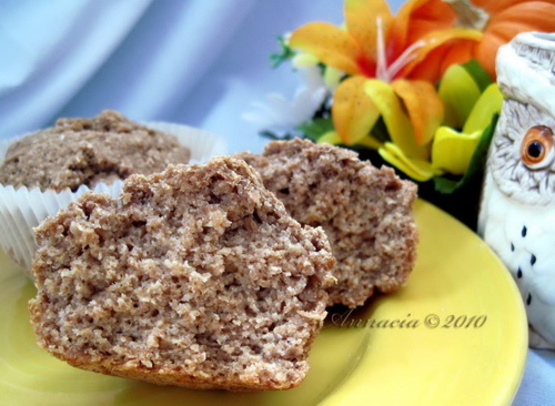 I found this on an other site I made a few changes to it as it wasn't quite right and I think this way is better. You can add more sugar if you like but I have just found out I am diabetic so I was trying to keep the sugar down I suppose you could add splenda to them but my apple sauce was made with sweet apples so I didn't need too much sugar.I use a silicone muffin mould and don't use paper cases.

I used the ask for amount of natural bran instead of the cereal and it worked perfectly. For the butter I used a non-hydrogenated margarine and Splenda Brown blend in 3/4 the amount of sugar ask for. The applesauce really works well here, it adds moisture and great flavor while cutting fat. My test muffin was very well enjoyed along with a cuppa of cinnamon orange tea. Thanks so much for posting this Jenny.
pre heat oven to 190c and oil a 12 cup muffin tin or use paper cups.
mix bran flakes, flour, sugar,cinnamon and baking powder, in a bowl.
Then add apple sauce, melted butter and vanilla and mix well and spoon into the muffin tin.
bake for 25/30 minutes or until ready.
cool on a wire rack and enjoy.