Healthy Beef and Broccoli Stir-Fry
Bergy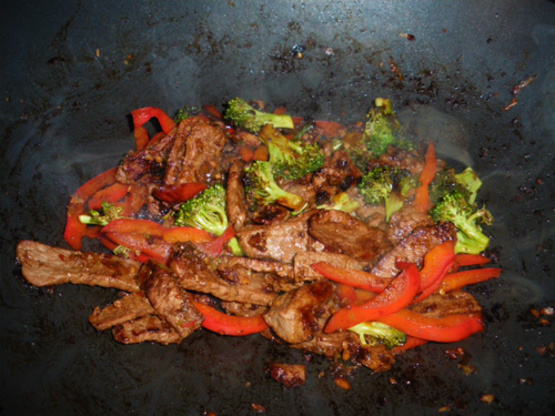 Great recipe but be very careful just how much fresh ginger you use.

Top Review by Bergy
Excellent stir fry. I put the first 6 ingredients in my mini food chopper and minced everything together, used my mandolin on the red pepper and I cut the beef while it was still 3/4 frozen.The broccoli florets are quick to cut. It made the recipe so easy. I used Balsamic vinegar. Thanks for a do again recipe.
Heat oil in a large nonstick wok, set over medium-high heat. Add the ginger, scallions, and garlic; cook, tossing and stirring, until fragrant, about 30 seconds. Add red-pepper flakes and orange zest, cook 20 seconds longer.
Slip the sirloin strips in the pan and cook, stirring and tossing, until lightly browned, about 2 minutes. Add the broccoli and bell pepper; continue tossing and stirring until slightly softened but still crunchy, about 1 minute.
Pour in the soy sauce and vinegar and bring to a boil, stirring constantly. Add roux and cook, stirring, until thickened, about 15 seconds. Immediately remove from heat. Let stand 1 minute before serving.