Healthy Bean Soup With Kale
Dine Dish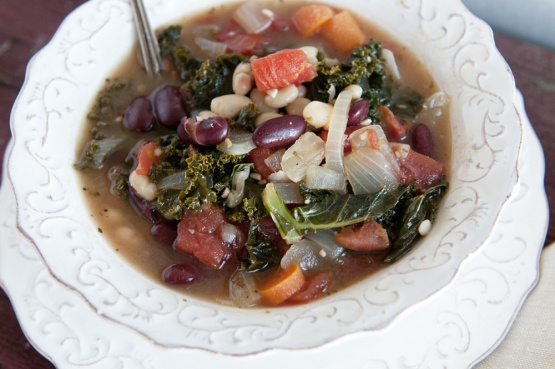 We've all heard how anti-oxidants fight cancer, save eyesight, and prevent clogged arteries. Turns out lutein, a delicious 7 mg dose of which is supplied with each serving of this recipe, is even more beneficial than beta carotene. It delays lung aging and combats arthritis to boot! Who knew improving your health could be so quick and easy, and taste so good? Try it -- you'll see! P.S. Since I felt this lacked enough elements to chew on, I've been adding canned, sliced carrots (fast, easy & healthy!) for quite a while, and thought I'd update the recipe. Also, sometimes I add another can of beans, for the same reason. Glad so many of you have been enjoying this. There's a container in my frig right now - yum!

This was very good. I used fresh carrots and a little celery chopped up in the food processor. I also cooked it in the crockpot for about 6 hours after sauteing the onions, garlic, and kale as directed. It seemed like an awful lot of garlic, but it mellowed out nicely. We served it with parmesan on top, yum! The only thing I will change next time is to chop up the kale into very small pieces, maybe with the food processor, to make the soup easier to eat--it was a little sloppy this time.
In a large pot, heat olive oil.
Add garlic and onion; saute until soft and the onion is transparent.
Wash the kale, leaving small droplets of water. Saute, stirring, until wilted and a lovely emerald green, about 15 minutes.
Add 3 cups of the broth, reserving 1 cup, 2 cups of the beans, reserving 1 cup, all of the carrots, tomatoes, herbs, salt and pepper.
Simmer 5 minutes.
In a blender or food processor, mix the reserved beans and broth until smooth.
Stir into the soup to thicken it nicely.
Simmer 15 more minutes.
Ladle into bowls; sprinkle with chopped parsley and shredded parmesan.
Serve with a nice loaf of crusty bread to soak up all the yummy broth!
For Vegetarian use the vegetable broth.